What heartbeat does?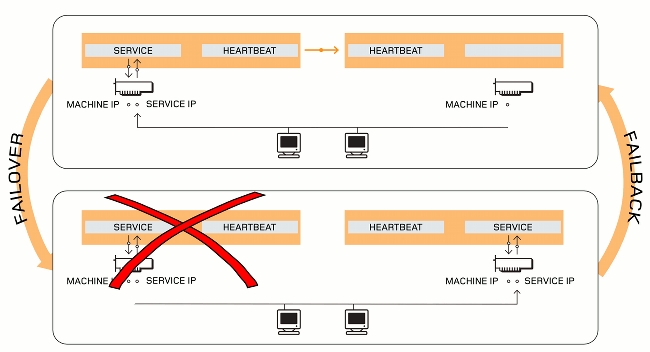 The Heartbeat program is one of the core components of the Linux-HA (High-Availability Linux) project. Heartbeat is highly portable, and runs on every known Linux platform, and also on FreeBSD and Solaris. Ports to other OSes are also in progress.

The upper part of this picture shows a cluster where the left node is currently active, i.e., the service's IP address is currently on the left node, and the client machines are talking to the service via its service's IP address on the active (left) node.

The service, including its IP address, can be migrated to the other node at any time, either due to a failure of the active node or as an administrative action. The lower part of the illustration shows a degraded cluster. In HA speak the migration of a service is called failover, the reverse process is called failback and when the migration is triggered by an administrator it is called switchover.

Heartbeat is the first piece of software which was written for the Linux-HA project. It performs death-of-node detection, communications and cluster management in one process. a

What Linux-HA can do now

Heartbeat currently supports a very sophisticated dependency model for n-node clusters. 
It is both extremely useful and quite stable at this point in time. 
The following types of applications are typical:

    * Database servers
    * ERP applications
    * Web servers
    *

      LVS director (load balancer) servers
    * Mail servers
    * Firewalls
    * File servers
    * DNS servers
    * DHCP servers
    * Proxy Caching servers
    * Custom applications
    * etc. 

Heartbeat is used in virtually every market segment, industry, and organization size. 

reference link: http://www.linux-ha.org/

Server is hosted by Alanstudio
Linux Operating System
Recommend screen resolution 1024 x 768 / IE / FireFox
Alan Studio © 2007 by Alan Cheung Hin Lun. All rights reserved.